What does your smile say?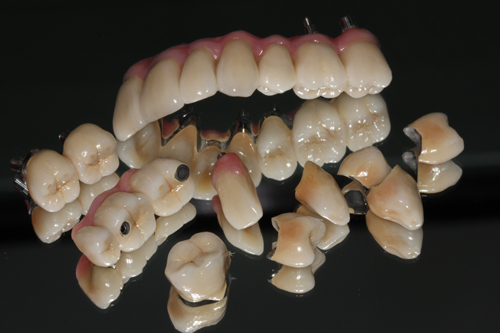 Your smile reveals a great deal about who you are. At Progressive Dental Group, we ensure that patients send the right message with radiant, gorgeous smiles. If stains, chips, or cracks cause you to hide your pearly whites, let us correct the imperfections to reveal the real you. Even small enhancements will give your smile a lift. Invest in a new smile and see how it changes the way the world views you.
Allow Progressive Dental Group to complete a prosthodonitc evaluation to review your smile makeover options.
Benefits of a Full Mouth Reconstruction
A full mouth reconstruction is a comprehensive and inclusive dental treatment that seeks to revitalize your smile and your oral health. Each patient's oral anatomy and dental needs are unique, as should be their treatment. At PDG we custom-tailor the full mouth rehabilitation to the specific issues that are affecting your oral wellbeing, thereby delivering an optimized treatment that will help ensure a strikingly healthy smile. As such, there is a broad range of restorative options, each of which offers its own set of benefits.
The PDG Difference
At our Decatur office we offer three solutions to missing and irreparably damaged teeth, which include dental implants, dentures, and dental bridges. All three options can assist in making sure your teeth don't drift as a result of the space left behind by a missing tooth. Bridges, dentures, and implants can all fill in gaps in your smile as well, helping to cover nooks between the teeth that are particularly susceptible to debris buildup. Dental implants can also protect you from bone loss, as the implant acts an artificial tooth root and can support one or more permanent replacement teeth.